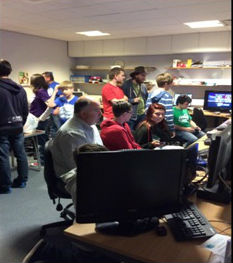 Our Tech Club was founded in June 2015 by parents whose own children were desperate for a club of this type. As there was nothing like it available, we did it ourselves! We recognised the need for a quality after school club which catered for children who would ordinarily struggle socially. Our club addresses the needs of our children through a relaxed environment with no demands other than calm and acceptable behaviour.
We are a community of families, all of whom have a child with invisible disabilities. We provide support for families who have a child aged 8+ with invisible disabilities and anxiety issues. Siblings are also welcome at (age 8+) all club nights and activities.
We meet at Pyle Life Centre on Wednesdays from 5:30pm-7:30pm every week (except school holidays). The children share time on consoles and computers in the tech rooms with support from our volunteers (all of whom are disability aware and DBS checked). A qualified first aider and safeguarding officer is also available at all sessions. Parents whose children are able to cope without their 1:1 support can have a chat and support each other in the café area which is adjacent to the computer rooms.
Parents are required to remain in the building as we are not a registered childcare provider and children remain the responsibility of their carer. There is also a small tuck shop, (the profits from which all go directly back to the club) and Greggs end of day food which is free (though there is a donation pot if people wish to make a donation).
In addition to the club nights we also offer weekend swimming, gymnastics and trampolining sessions, plus subsidised activities/events/trips/parties/fun days and residential weekends during school holidays that the whole family can enjoy.
Our rebound trampolining club "Altitude" has been running since 2016 and is extremely popular.
Our surf club, "Wave Riders" is new for 2019. we workalongside local CIC Karma Seas to provide surf therapy that the whole family can enjoy all year round.
For parents/carers we hold regular events to promote health and wellbeing. These include subsidised spa days, lunches and afternoon teas during week days in school term time and group nights away on occasional weekends.
Access to  these events is based on the requirement of paying the annual membership fee of £10 per famiy and attending the weekly tech club nights.
The club is extremely popular with limited spaces available and as a result we unfortunately have a substantial waiting list. If you would like your children to be added to the list or have questions which are not answered on our website then please don't hesitate to get in touch through the contact us section of this website.